Serving Metro Louisville Ky
Karen Mitchell Lanz, DVM, CVA, CVMMP, CVTP
Certified Veterinary Acupuncturist
Certified Veterinary Medical Manipulation Practitioner
Certified Veterinary Tui-Na Practitioner
---
Treating dogs, cats, small mammals
Office hours and house calls available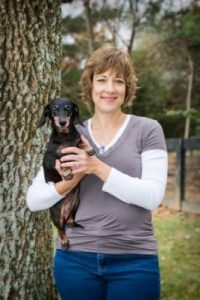 Acupuncture is the stimulation of specific points on the body for the purpose of eliciting healing responses in the body during the treatment of many diseases and conditions. This stimulation can be done with acupuncture needles, massage or other techniques. Acupuncture is an ancient procedure used in traditional Chinese medicine and traditional Chinese veterinary medicine (TCVM) to bring the body back into balance.
Studies show that acupuncture can be effective in conditions such as:
Arthritis.
Respiratory Illnesses such as Asthma.
Gastrointestinal Disorders such as vomiting/diarrhea.
Other chronic conditions such as kidney disease, geriatric issues, or behavioral problems.
Make an Appointment
Make an appointment for your pet today!